TOYOTA KAKADU STEREO RADIO REPAIR SERVICE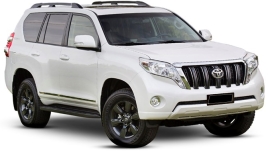 TOYOTA KAKADU STEREO RADIO REPAIR SERVICE
PLEASE NOTE: THIS PRODUCT IS A REPAIR ONLY SERVICE
Is your touch panel not working correctly and/or the touch panel is cracked making the stereo useless? ASL can guarantee a repair of your stereo or you won't be charged* (excluding freight & no fault found). ASL has the equipment to test and power your stereo on bench and can test all functions. As the stereo integrates seamlessly, repairing your existing stereo makes sense! Just pop the repaired stereo player back in your vehicle and off you go. LEAVE IT TO THE EXPERTS!

MODELS REPAIRED

86431-60100
86431-60520
86805-60030

`AUDIO OFF'
The most common issue we see with these units is `AUDIO OFF'. It can be difficult to diagnose the issue but to
date we have never experienced this issue with the `DISPLAY SECTION'. With these units as each individual
module has to be connected in order for the system to operate correctly. To isolate what is causing the `AUDIO OFF'
issue we recommend the following procedure:

DIAGNOSIS MENU
1) Have the radio on
2) Press and HOLD the "Info" button while turning the headlights on-off 3 times
3) Press "Failure Diagnosis" then "System Check"
4) If "MOST" is orange, press it, this will then tell you the fault
5) To exit, press and hold "DISP" or simply turn the car off and on again
EMV = Display
Audio = CD Stacker below the display
AMP = Amplifier
RSE = Rear Seat Entertainment (Roof-mounted TV Display)
DTE = Digital TV Tuner
Yours may have other devices on the display. The unit you will be concerned about is any unit that is:
NCON = Not Connected
NRES = Not Responding

WHEN SENDING FOR REPAIR:
PLEASE SUPPLY FULL NAME AND ADDRESS AND CONTACT DETAILS
PLEASE GIVE A QUICK DETAIL OF THE FAULT
REPAIR ADDRESS DETAILS
ASL AUTOMEDIA
ATT: SERVICE
13 COMMERCIAL DRIVE
LYNBROOK VICTORIA 3975

IF PLANNING TO COME DIRECT PLEASE CALL US ON 03 9799-1444 FOR BOOKING
NO FAULT FOUND AND UNREPAIRABLE STEREO
IF A NO FAULT IS FOUND (NFF) AFTER OUR EXTENSIVE TESTING, YOU WILL BE CHARGED $75 FOR OUR SERVICES AND A PARTIAL REFUND WILL BE ISSUED IF ADVANCE PAYMENT HAS BEEN MADE.
A NO CHARGE IS APPLIED IF A FAULT IS IDENTIFIED AND CANNOT BE REPAIRED. THIS DOES NOT APPLY IF A FAULT CANNOT BE IDENTIFIED - NO FAULT FOUND (NFF)
12 MONTH WARRANTY ON REPAIR - THE WARRANTY ONLY APPLIES TO THE DISPLAY. WATER DAMAGE IS NOT COVERED BY OUR WARRANTY.
WARRANTY DISCLAIMER NOTICE! Radio removal, disassembly, installation of Electronics, and Radio re-assembly/re-installation is the responsibility of the installer, not ASL Automedia Pty Ltd. It is recommended that you contract a professional installer that is experienced with proper work methods involving electronics and knowledgeable of specific procedures for radio disassembly, Electronics installation, and re-assembly/re-installation of the Radio Head Unit in the vehicle.